This story originally appeared in Dirge Magazine on Dec. 28, 2016. Since it's publication, Dirge went to black and white photos. I'm reprinting the piece here in color with permission.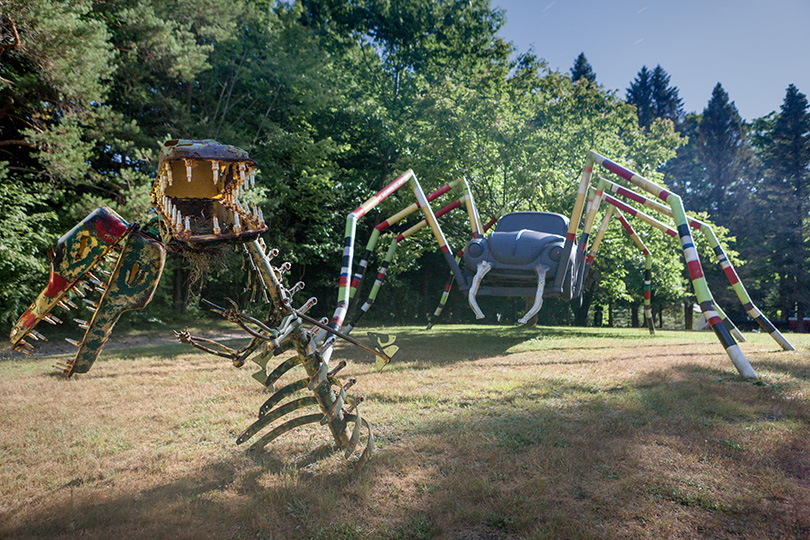 When photographer Fred Scruton approached the colorful Niagara Falls, New York home and saw the extensive hand-painted ornamentation covering the house and yard, he knew he'd found a major outsider artist. The owner of the house, a man who goes by Prophet Isaiah Robertson, knew Scruton had been sent by God to record his message and spread it throughout the world. It's possible both men were right.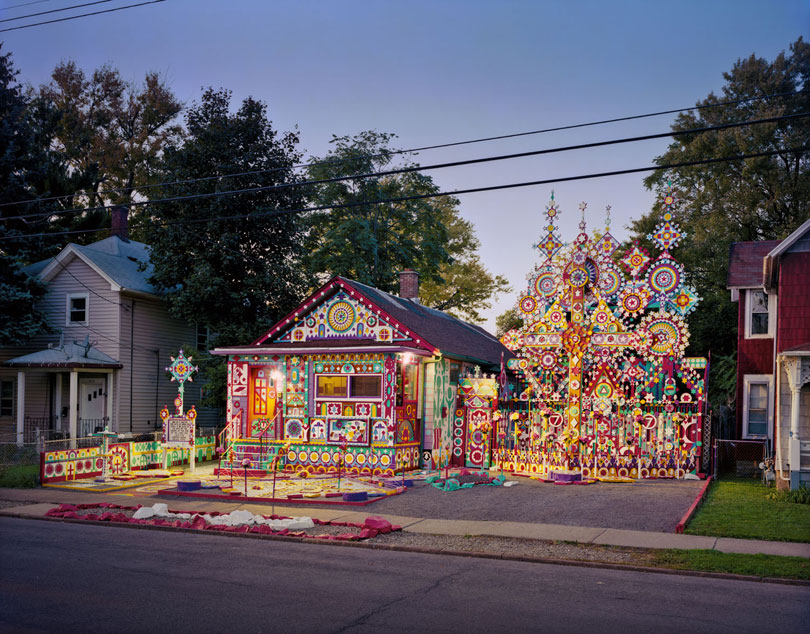 Since his first visit in 2010, Scruton has visited Prophet Isaiah Robertson's home about fifty times, always working hard to find the best angle, lighting, and to create a cumulative body of images that record the magic of Robertson's artwork, all the while thinking, "I can do better."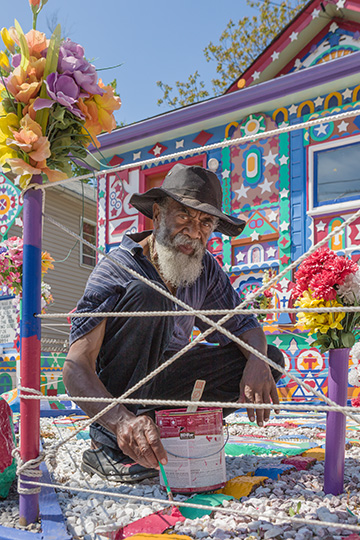 For the last eleven years of his life, Scruton has traveled throughout the United States photographing the wildest, most peculiar "art environments" he can find. His stunning photos capture surreal homes and their unique and eccentric owners.
After earning his MFA from Pratt Institute in 1982, Scruton worked as a freelance photographer in New York City for over twenty years. In the 90s, the freelance art market began to dry up. Scruton, suddenly finding himself with time on his hands, took notice of Louis Dibaggio, a man in his Brooklyn neighborhood who scrawled religious messages with chalk on the sides of buildings. "I think he was schizophrenic. He'd sort of go away for awhile, and then he'd be back." Scruton started taking pictures of the man's work. "I found the emotional rawness to be compelling."
Around this time, Scruton also began taking pictures highlighting the odd juxtaposition of churches that had moved into previously commercial spaces such as a historic movie theatre with a marquee reading "Philadelphia Church of Universal Brotherhood" and an amateurish rendition of The Last Supper hand-painted on a cement wall.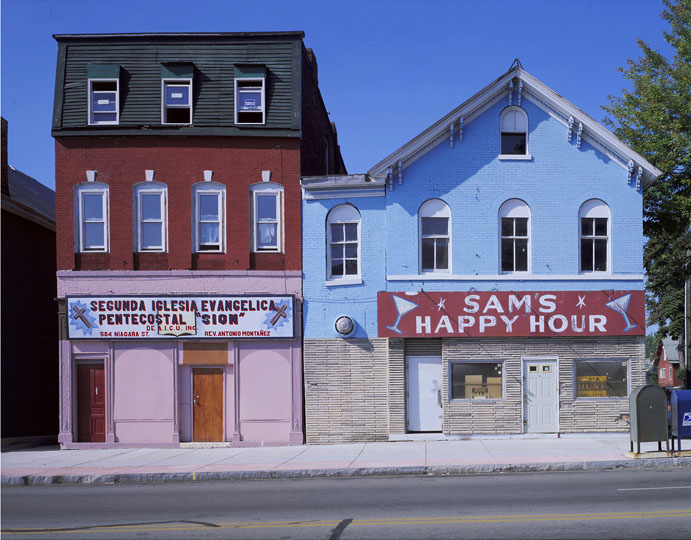 Scruton's interest in outsider art and odd environments continued to grow. He traded the freelancer's life for a new teaching job at Edinboro University which provided a steady income and the flexibility of the academic calendar. This coincided with the rise of the internet which made researching far-flung spaces much easier. For the last fifteen years, he's traveled around the country photographing outsider art and artists.
His adventures have put him in the center of a world of eclectic outsider artists, some of whom, like Prophet Isaiah Robertson, believe Scruton to be a special person ordained to document their work. Setting up meeting with these artists can sometimes be difficult and Scruton's descriptions of his road trips include stories of hunting down sources at a graffitied record store, unsuccessful calls to disconnected cell phones, dirt roads, and absences due to unexpected hospital visits.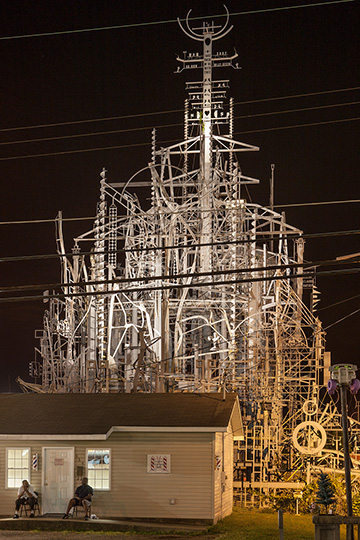 When he arrived to meet one artist (whom he'd like to keep unnamed), Scruton was surprised to see he was wearing enormous false breasts, and because of that, didn't want to be photographed. After some cajoling, the artists put on a heavy winter jacket despite the hot summer weather. Scruton got his photos, and shortly after, a hail storm broke out. The artist was suddenly perfectly attired while Scruton had to scramble for cover.
The outlandish places Scruton visits are usually large and visible, and he's rarely first on the scene. "I'm always competing with a whole bunch of other photographers, and if I can come away with photographs that stand the test of time better, if people can look at them and say what an amazing place this was even if it's gone now, I would feel proud of that."
In addition to hunting for new sites, Scruton returns often to places he's visited before in search of a better picture. "I am a better photographer now than I was a year ago."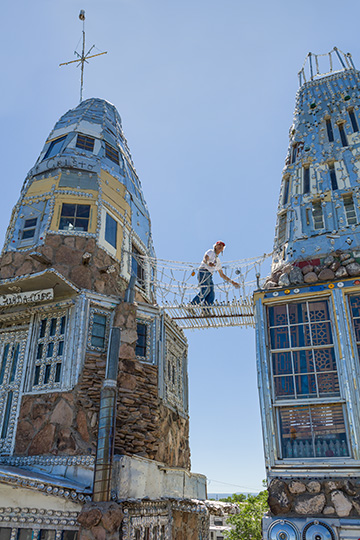 From hubcap-laden spires in Colorado, to a light up bowling ball cross in Oklahoma, to monstrous metallic lawn sculptures in Erie, Pennsylvania, Scruton says the common denominator among all of these artists is a need to create. "They're creating a castle around themselves," he says. "It becomes their world and it's self-perpetuating. It's a public thing and people come to see it and it's like they and their work are right out there on massive, awesome public display. They tend to become very absorbed and obsessive."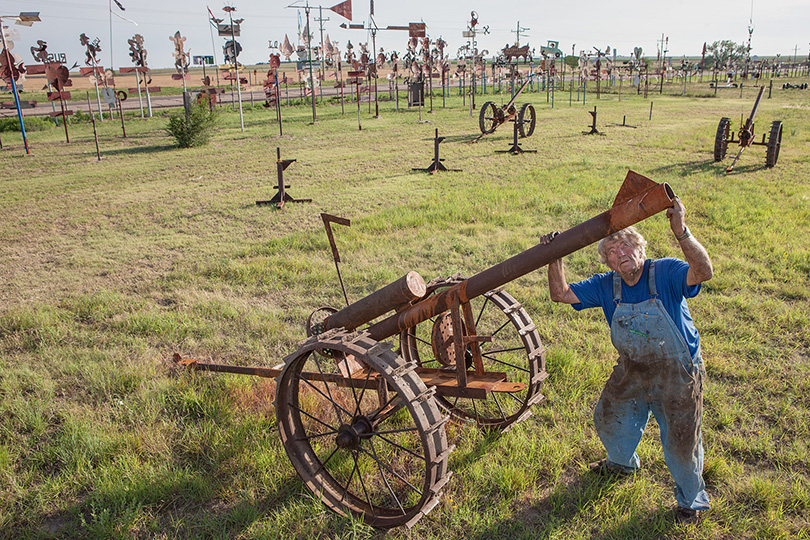 Scruton has great respect for the artists he visits and sees his photographs as a collaboration. "I wouldn't exist without them, but a photograph of that level wouldn't exist without me," he says. He makes sure to notify his subjects when he gets press or has photographs in a show.
"Frances Frith photographed the pyramids in the 1800s, but he had no way to thank the pharaohs and all the laborers. I, at least, can thank these people."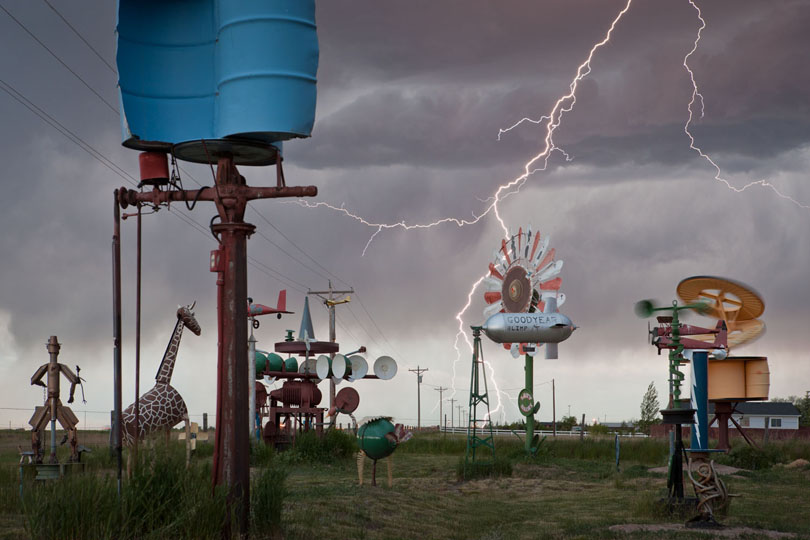 In addition to photographing the work of outsider artists, Scruton has also begun writing about and filming them. He feels that photography can't alone tell the whole story. "One of the reasons I'm interested in outsider work is that it's usually a direct reflection of someone's real life. It's not an art concept."
Scruton says he's found his life's work, and is continuing to revisit his favorite sites and seek out new artists and spaces. "I think the work is worthy of some documentary effort," says Scruton. "There's something compelling about the human spirit and the stories they want to tell."
See more of Fred Scruton's work on his website.