Thyrza Segal became internet-famous for painting monsters into artwork she found at thrift stores. She's also built costumes for television, created polymer clay aliens, and painted nudes into scenes of clothed people depicted in masterworks. Here, she answers some questions.
Tell me about how you began painting monsters over thrift store art.
My brother asked me to paint Godzilla onto his souvenir painting of the Golden Gate Bridge. I enjoyed matching the colors and style to make it look like the monster belonged there. I forgot about the painting for a few years while frantically making pop art terrariums with secondhand glassware.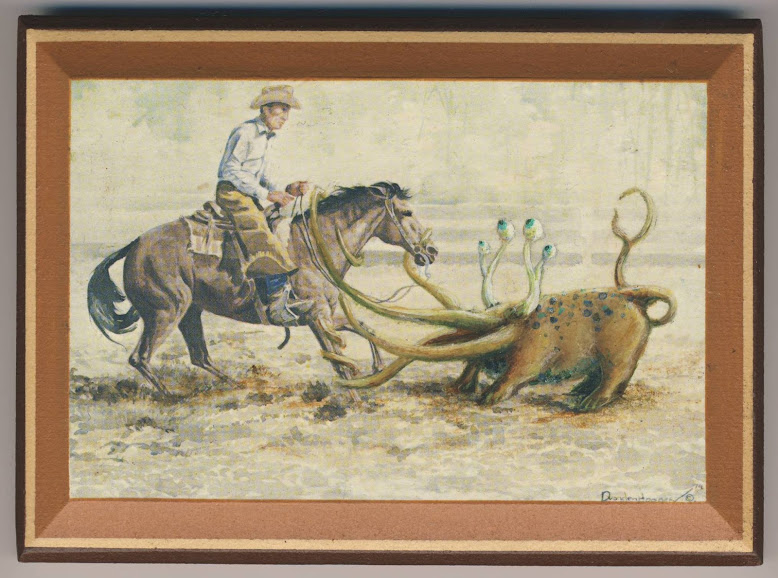 What do you look for when searching out already finished work to paint over?
I look for well-done landscapes. I prefer prints because they're often better than the paintings at thrift stores. I research the original artists and feel like I am studying them rather than painting over their work. Vintage lithographs are also fun to work with because they are collectible to begin with.
Robert Wood is a favorite artist because his landscapes have compositions that allow for a character to be introduced in a natural way. His works are also so ubiquitous that people have a sense of recognition when they see them. People appreciate the alterations more if they remember seeing the print hanging in their great aunt's den.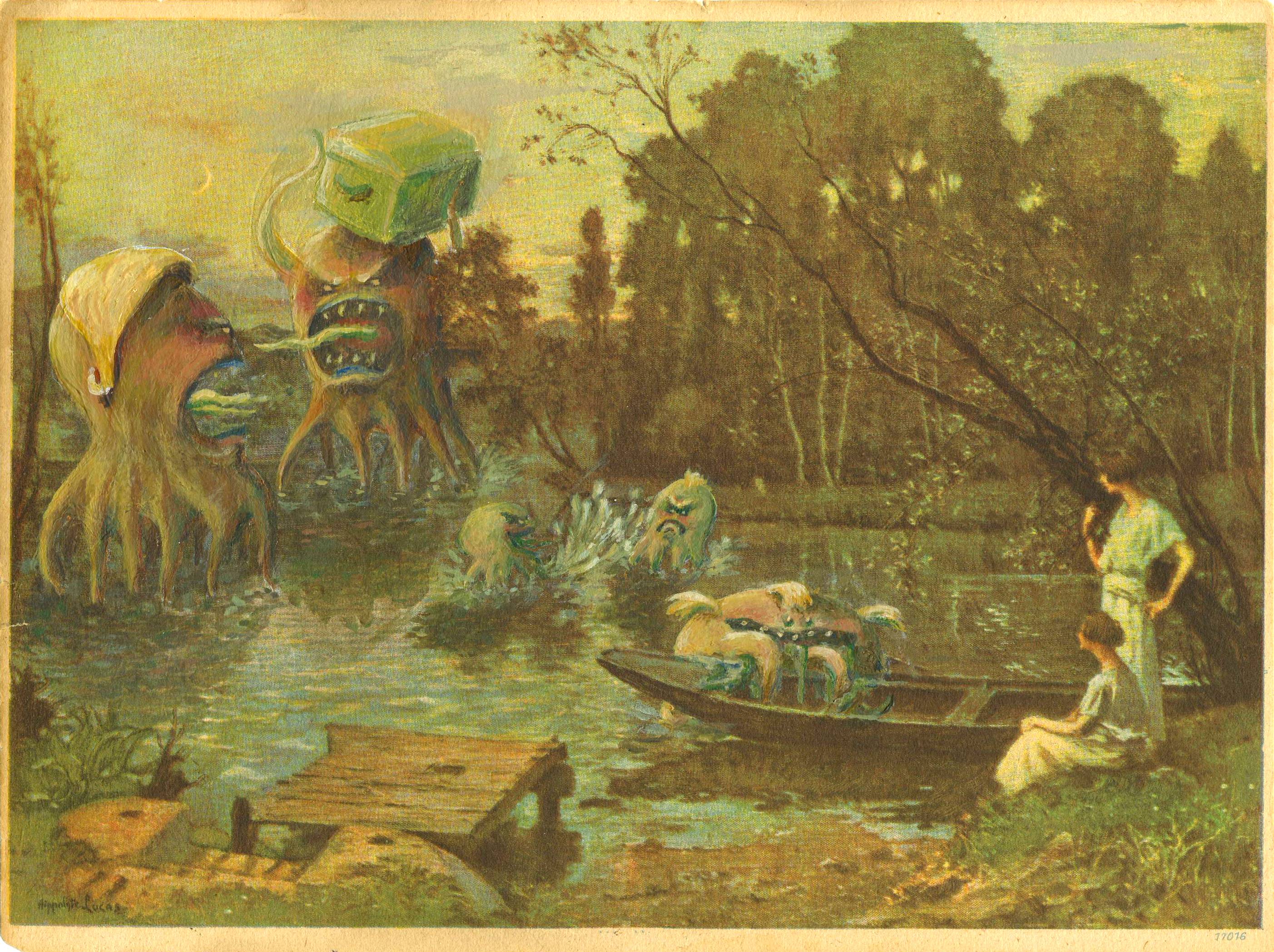 How did the terrariums begin?
I was designing and making art lighting and frequenting thrift stores for lamp supplies when I picked up a coffee decanter. Who decants coffee? No one. I don't even drink coffee, but the container was cool so I got it. I saw Paula Hayes' work online shortly afterwards and was so inspired that I started making terrariums.
Almost every thrift store carries an instruction book on making terrariums. I enjoyed thrifting for glassware too. I would mix and match various items to create "Plantscape" containers.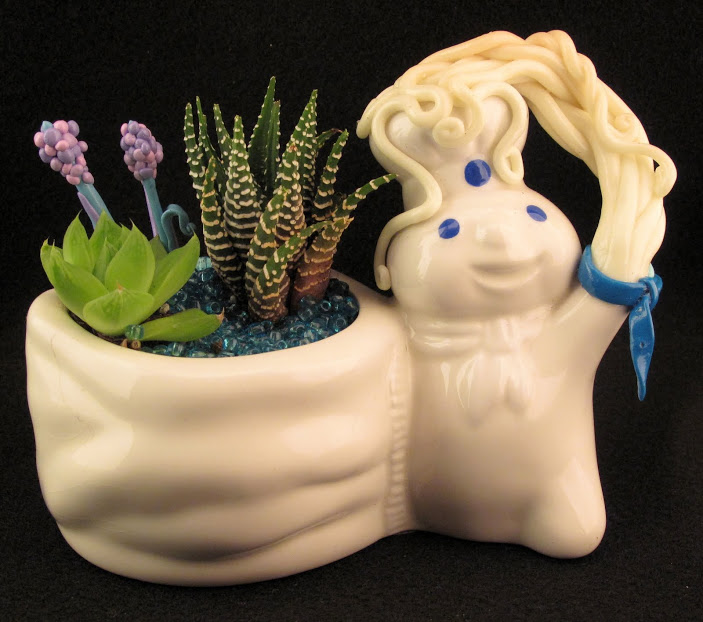 When I began looking for dollar store figurines to put in terrariums, none of them seemed to be the right scale. I had some polymer clay so started making the aliens and alien plants. It became an obsession. I sold over 1,200 terrariums in the next few years.
In much of your work, you use found objects, whether those objects are thrift store purchases or desert debris. What is it about working with found items that interests you?
I try to look at any object as though I have never seen it before and have no idea of its intended purpose. I think opening this part of my mind somehow lets new concepts and ideas come more readily. Maybe I think better with an object in my hand. I'm not sure. It's a lot easier to find a variety of objects of different shapes and purposes at a thrift store than at an art supply store.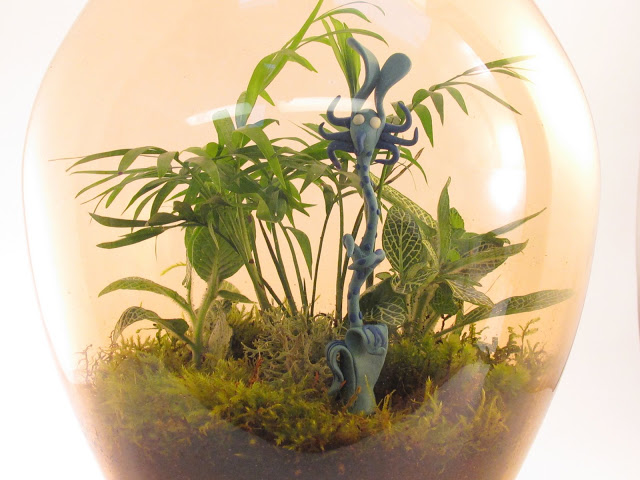 It is also easy to experiment with inexpensive or found art supplies. We are all surrounded by art supplies. You don't need to be rich to create art.  A lot of my supplies might have otherwise ended up in the landfill. I'm happy when I can convince people these items have aesthetic worth.
What's the strangest thing you've ever purchased at a thrift store?
When I'm in Joshua Tree, I go to the Sky Village Swap Meet on the weekends. It's a strange place run by strange people and could be one of my favorite places in the world. Every time I go, I find something that I have never seen before. Once, I bought plaster castings of teeth from a dentists office. I use one as an incense burner.
Monsters are creepy. They're everywhere in your work. What's wrong with you?
I grew up with an artist mom who had a taste for the macabre. Francisco Goya's "Saturn Devouring his Son" hung at eye level in the bathroom opposite the loo. Hieronymus Bosch's "The Garden of Earthly Delights" hung over the kitchen table. However, as much as I like to blame my mother for my twisted mind, I did do a lot of LSD as a teenager. She had nothing to do with that.
What are you most proud of as an artist?
I worked and studied and taught the art of costume building and designing for about 15 years before I gave it up to explore other forms of art. My last job was assistant costume designer for Stargate Atlantis. It was a great job, but, as any artist who has worked in film will attest to, I was a cog in a machine.
I worked as a contractor on a T.V. showed called "Hollywood Off Ramp," a Twilight Zone-like show, and we worked on an episode where the main character woke up one day and had physically become a mascot named The Flying Wahoo.
I was asked to make a skin-tight costume from fur that was not stretchy in the least. It's impossible to do this in most instances because when people move or sit or breathe, they need to have some give in the clothing they wear. The designer had searched high and low across North America for a stretchy version of the fur, but it had to exactly match the fur on the mascot head already in progress. I couldn't turn to the internet like I would now. To make this work, I slashed the back of the fur in a strategic pattern. The holes weren't visible from the outside, and the slashing made the fabric somewhat stretchy.
I've gotten a lot of attention from people all over the world for my thrift store paintings, but they are nothing compared to The Flying Wahoo.
What do you hope to do next?
I'm finishing a series based on a thrift store painting. The first is a thrift store print altered with acrylic paint, the second is a thrift store print of a photograph altered with polymer clay and Photoshop. Next, I want to alter an old needlepoint with embroidery floss. I am on the lookout for a needlepoint with a body of water in the foreground, a waterfall in the distance, and pine trees to the left of the waterfalls. I would like to embroider the woman in the red bathing suit floating face down and also add an embroidered alien just sailing away. It would be a Thrift Store Triptych.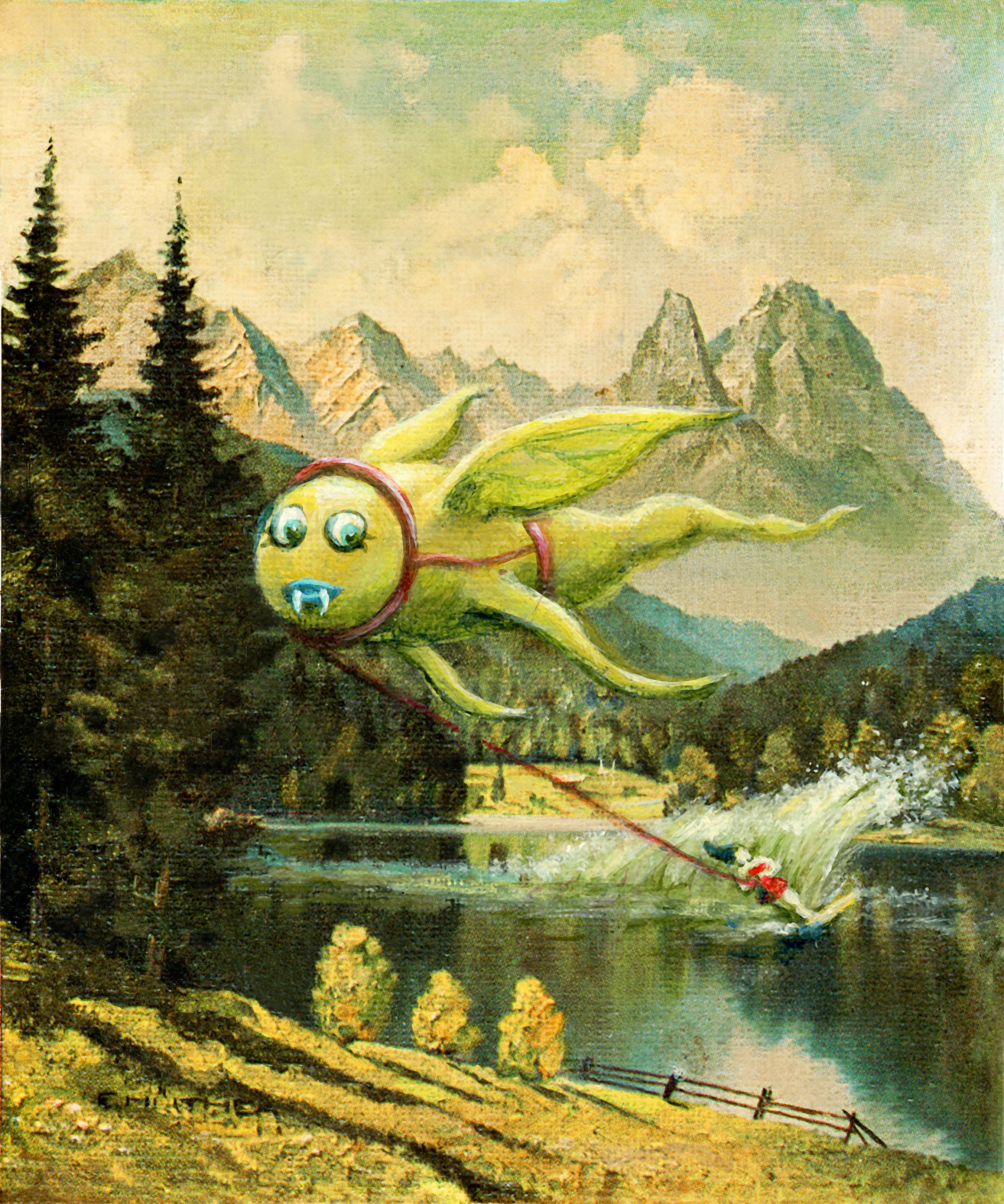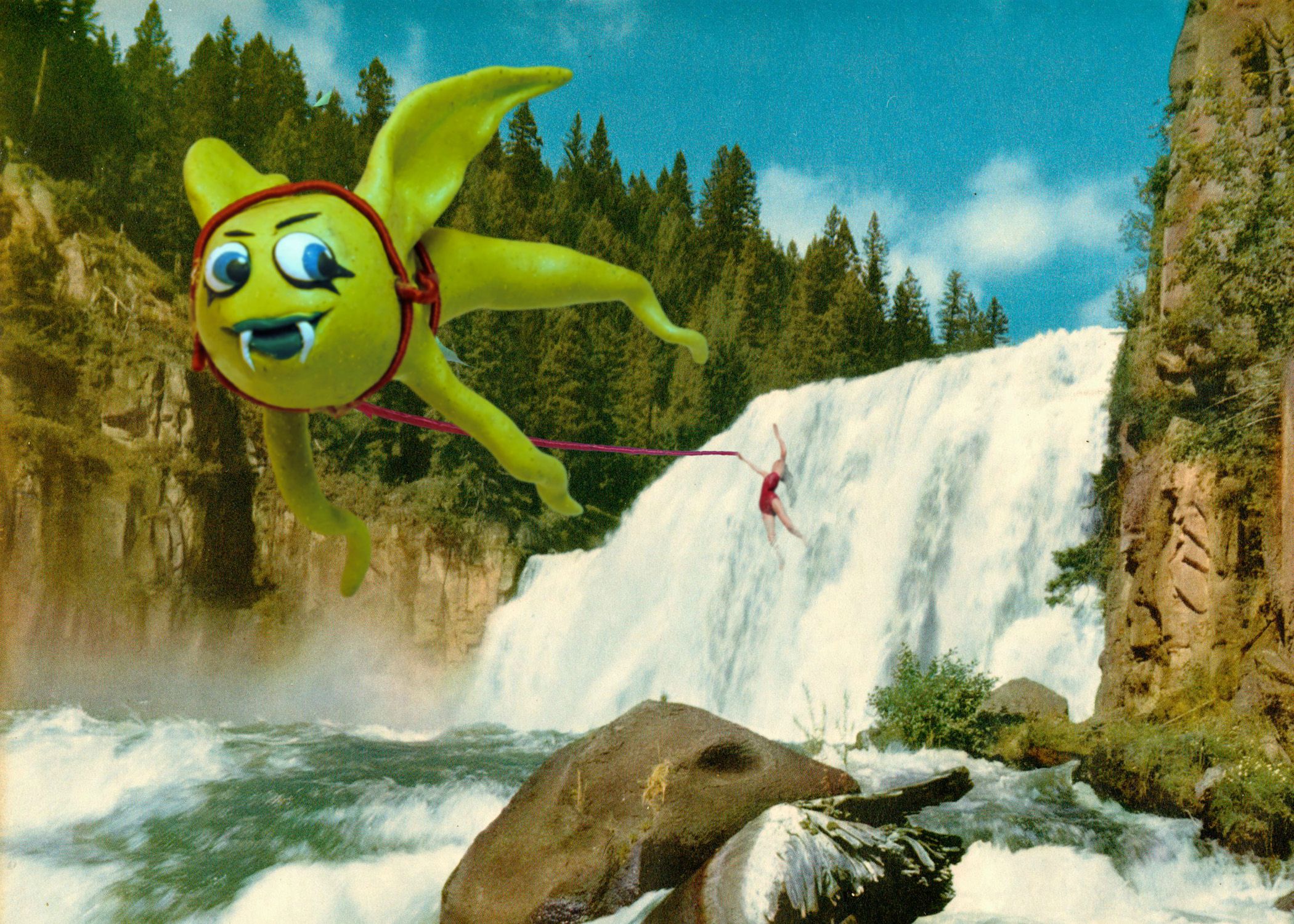 I also plan to illustrate Philip K. Dick's "Beyond Lies the Wub," an old family favorite. I want to do so with a series of lenticular images based on vintage "lentographs."
Other Crazy Work by Thyrza Segal:
Space pirates Thyrza created as guest artist for the 2013 Vancouver Science Fiction Convention
Wild desert tortoise attacking aliens
Richard the Nudist Art Bombs the Masters 
Series made after observing that soldiers coming home are still in combat mode and their family and friends look like aliens to them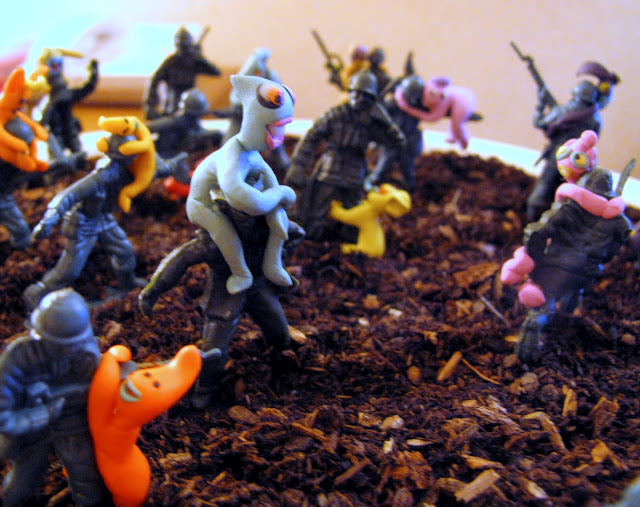 Piece Thyrza tried to give to Tim Burton but he turned down because he didn't want to have art in his house that reminded him of work
Social Segal: