This story originally appeared in Dirge Magazine on April 7, 2017. 
The retrospective exhibition of Yayoi Kusama's artwork currently on display at Washington, D.C.'s Hirshhorn Museum showcases a 6-decade career hallmarked by obsessive, mind-bending repetitions of patterns and immersive viewer experiences.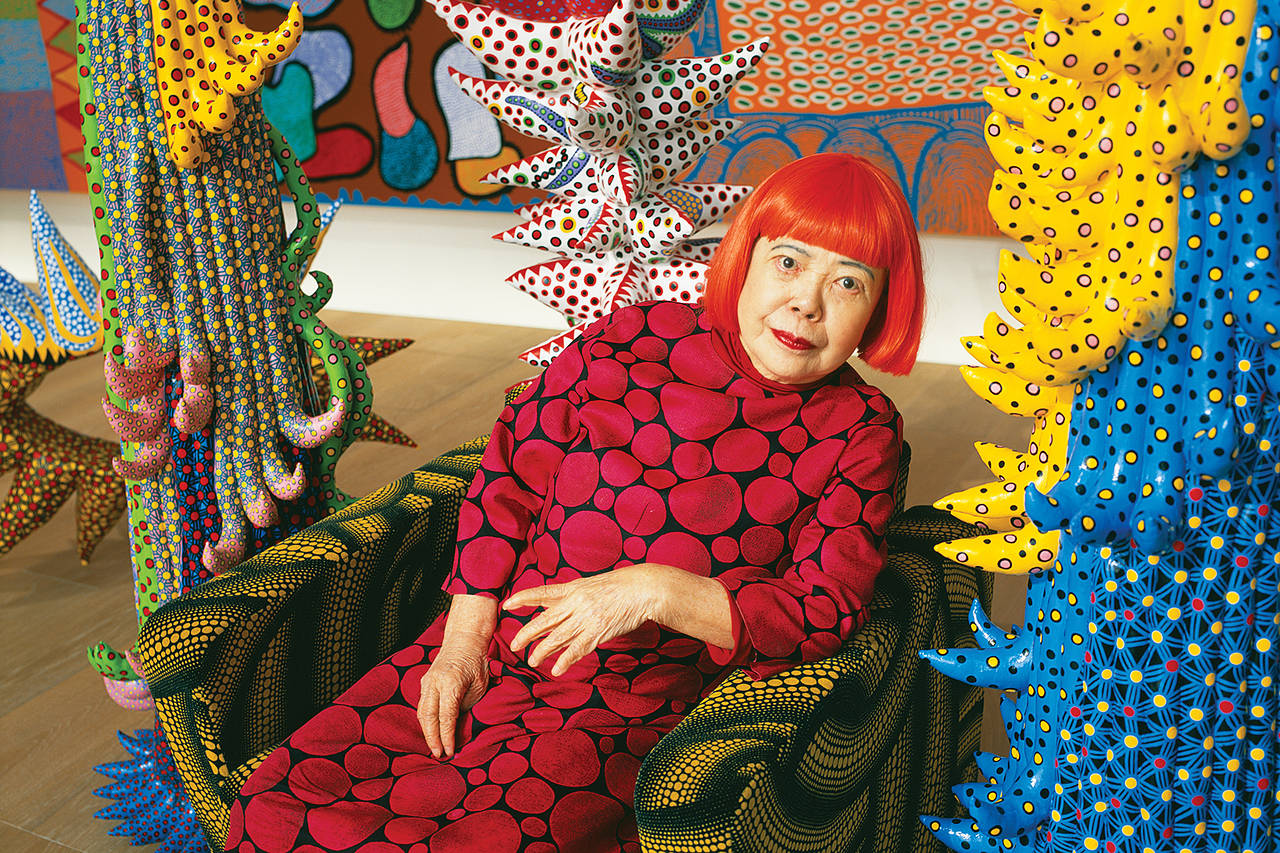 The exhibition has turned into a social media sensation. An Instagram selfie in a Kusama infinity room such as "Phalli's Field" is a status symbol, proof of a hard-to-get-ticket and entrance into the headline-grabbing show.
Kusama's work is complex and riddled with signs of a lifelong battle with mental illness. She suffers from depersonalization disorder and for more than forty years she's lived voluntarily in a psychiatric hospital in Tokyo across the street from her studio. Her art, she claims, is a necessary part of her treatment.
While much of the current media coverage of Kusama focuses on her ubiquitous polka dots and the five mesmerizing infinity rooms, among her re-emerging themes are her complex relationship with sex and a fear of penises, anxieties she grapples with through "psychosomatic art."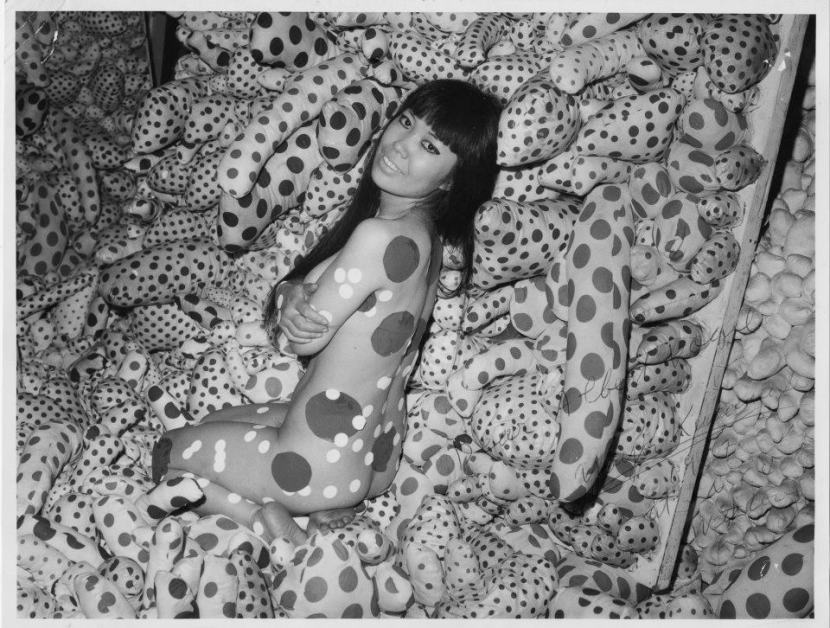 When a toddler, Kusuma witnessed "a sex act" that left a deep emotional scar. "…the fear that entered through my eyes had ballooned inside me." She also wrote that, as a child, her mother often asked her to follow her father when he left the house so that she could report back on his various trysts. She was taught sex was shameful and dirty, and she has feared it her whole life.
This long-standing fear of sex lead Kusuma to the creation of her phallus-covered "soft sculptures", an armchair and a sofa she debuted in 1962. These bulbous fabric phalluses appear on several pieces in her current exhibition. "All the inner factors that cause me to perceive sexual intercourse as violence find form in the shape of the male sex organ," wrote Kusama.
"I began making penises in order to heal my feelings of disgust towards sex. Reproducing the objects, again and again, was my way of conquering the fear," Kusama wrote in her autobiography. "I was terrified of sex, and of the phallus. My fear was of the hide-in-the-closet-trembling variety."
Creating phallus shapes is healing for her. "I make a pile of soft sculpture penises and lie down among them. That turns the frightening thing into something funny, something amusing. I'm able to revel in my illness in the dazzling light of day."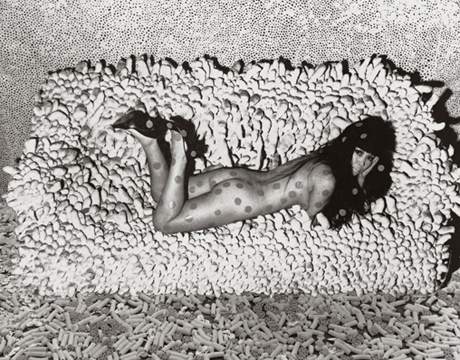 "People often assume I must be mad about sex, because I make so many such objects, but that's a complete misunderstanding. It's quite the opposite – I make the objects because they horrify me," Kusama wrote.
After debuting her soft sculptures, Kusama began organizing orgies and live nude performances in hopes of creating a sexual revolution that would stand in direct opposition to the Vietnam War. While she never participated in the sex acts herself, she orchestrated everything and painted polka dots over nude bodies. She became known as "The Polka Dot Princess" and "The Queen of the Hippies."
Kusama called her live nude performances "Happenings," the first of which she organized in 1967. It featured several performers burning American flags, bibles, and draft cards, then stripping, kissing, groping, and fornicating in front of St. Patrick's Cathedral in New York City. She held another event for several journalists shortly afterward featuring all-male performers having sex in a mirrored room among colored lights. According to Kusama, the reporters grew as excited as the performers and some began masturbating. These events always included polka dot body painting.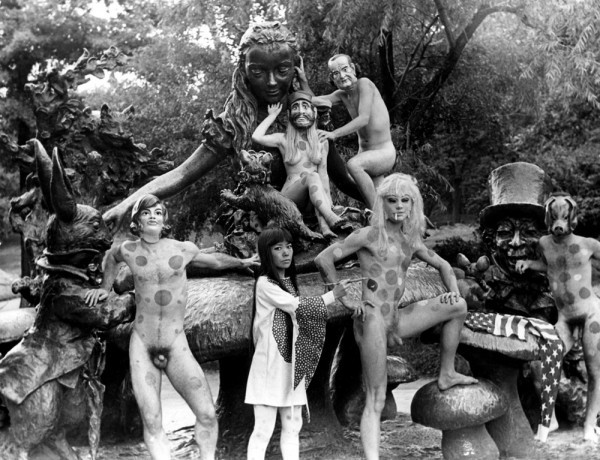 For Kusuma, covering subjects and their backgrounds with polka dots is a form of "obliteration," or merging everything into one infinite pattern. Painting polka dots on naked flesh allowed her to engage with sexuality and nudity as an artist, but never as a participant.
She turned her performance art into a studio where people could come and take part in the body painting themselves. She also began the Kusama Sex Company which helped organize group sex parties. She began her own newspaper called Kusama Orgy which was available at newsstands across the U.S. in 1969.
Photos from "Happenings" currently hang on the walls of the Hirshhorn Museum for patrons to peruse while waiting in long lines for the popular mirrored infinity rooms. There are nude pictures of Kusama as well.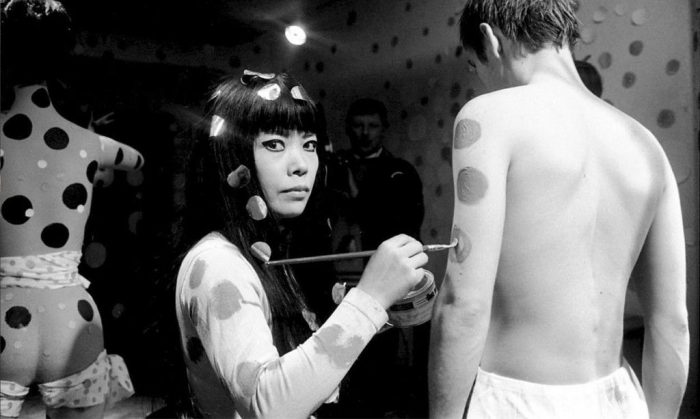 While journalists speculated about her own wild sex life, Kusama wrote, "I had no interest whatsoever in drugs or lesbianism, or indeed any kind of sex. That is why I drew a line between myself and the group. They all called me 'sister' because to them I was like a nun – but neither male nor female. I am a person who has no sex."
During the height of the sexual revolution she helped create, Kusama maintained a close but sexless relationship with the artist Joseph Cornell. Like Kusama, Cornell had a complex relationship with sex yet held a deep admiration of women and the female form. From Kusama's reportage, the two artists had a romantic bond that included hand holding, kissing, sketching one another nude, but never once copulating.
Kusama wanted to sexually liberate others in a way that she could not do for herself. "People were suffocating. In my opinion, just as starvation leads to crime and violence, the suppression of sex twists the true nature of human beings and is an underlying force that pushes people towards war." Kusama believed her purpose was to propagate a sexual revolution.
Yayoi Kusama's work fit comfortably into the sexual revolution and pop art scene in New York City in the 1960's. Her phalluses looked like bold proclamations of sexual promiscuity. Her "Happenings" celebrated sex, sexuality, and the human body. However, her art, though not easy, was necessary for her, a way for her to wrestle with deep-seated fears about sex.
Kusama's retrospective will hit four other cities after leaving Washington, D.C. No doubt you will see plenty of Kusama-themed selfies in your social media feed over the next few years. Lost in these snapshots is Kusama's complex relationships with obsession, repetition, the infinite, and the frightening power of sex.
Note: Much of the information here comes from "Infinity Net: The Autobiography of Yayoi Kusama."