With the help of people like you, I'm working towards getting 1,000 portraits of Frida Kahlo in public spaces on January 25, 2019, the Night of 1,000 Fridas. You can be part of this magical night by signing up here. That's exactly what Olympian Caroline Lind did!
Caroline Lind won gold medals in rowing at the 2008 and 2012 Olympics. She is also a needlepointer and Frida fan. She created an amazing Frida Kahlo jean jacket. I asked Caroline if I could feature her here to drum up enthusiasm for this project and she generously agreed.
How did you get in to needlepoint?
My mother taught me how to needlepoint at a very young age. I had set the hobby aside for a while but in the past 10 years I've picked it up again!
Do you see any connections between the discipline needed for needlepoint and for rowing?
Absolutely. Part of what I love about needlepoint is the feeling of accomplishment when you complete a piece or are making your way through one. The repetition of the stitches is much like the rowing stroke. I love being able to focus on a task. It somehow clears my mind as meditation would for others and allows me to stop some of the worry and anxiety that often creeps into my head.
What connection do you have to Frida?
I enjoy and respect her work. I think her artistic style is as fascinating as her personal story. She seemed to be ahead of her time in her exploration of gender, class, race, and her own culture.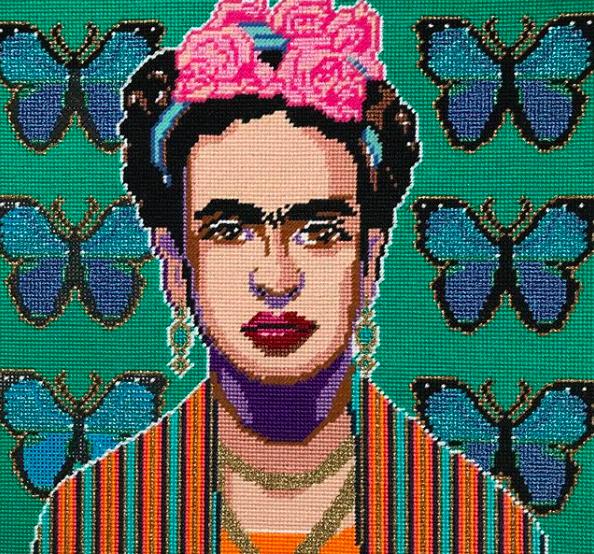 Why did you decide to join Night of 1,000 Fridas?
Someone commented on my Instagram post about your project and I thought…why not?
What's your next needlepoint project?
I have a few started at the moment, but the big one is a big pink floral bouquet with a bird on it. I am following a stitch guide and will be exploring new techniques and stitches.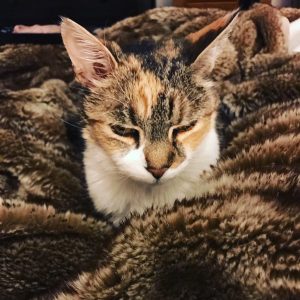 What's your next non-needlepoint project?
I am currently making a cross country move and starting a new job! I consider this a project I'm embarking on with my husband. Hopefully a child is a project not too far off!
What question do you wish I'd asked?
Do you have a needlepoint companion?  My needlepoint companion is my darling cat Kiki. Only every now and then does she try to "help" me with my string but otherwise she is generally just sitting next to me relaxing and supporting my work!
Thanks, Caroline. Now, don't you want to sign up too?