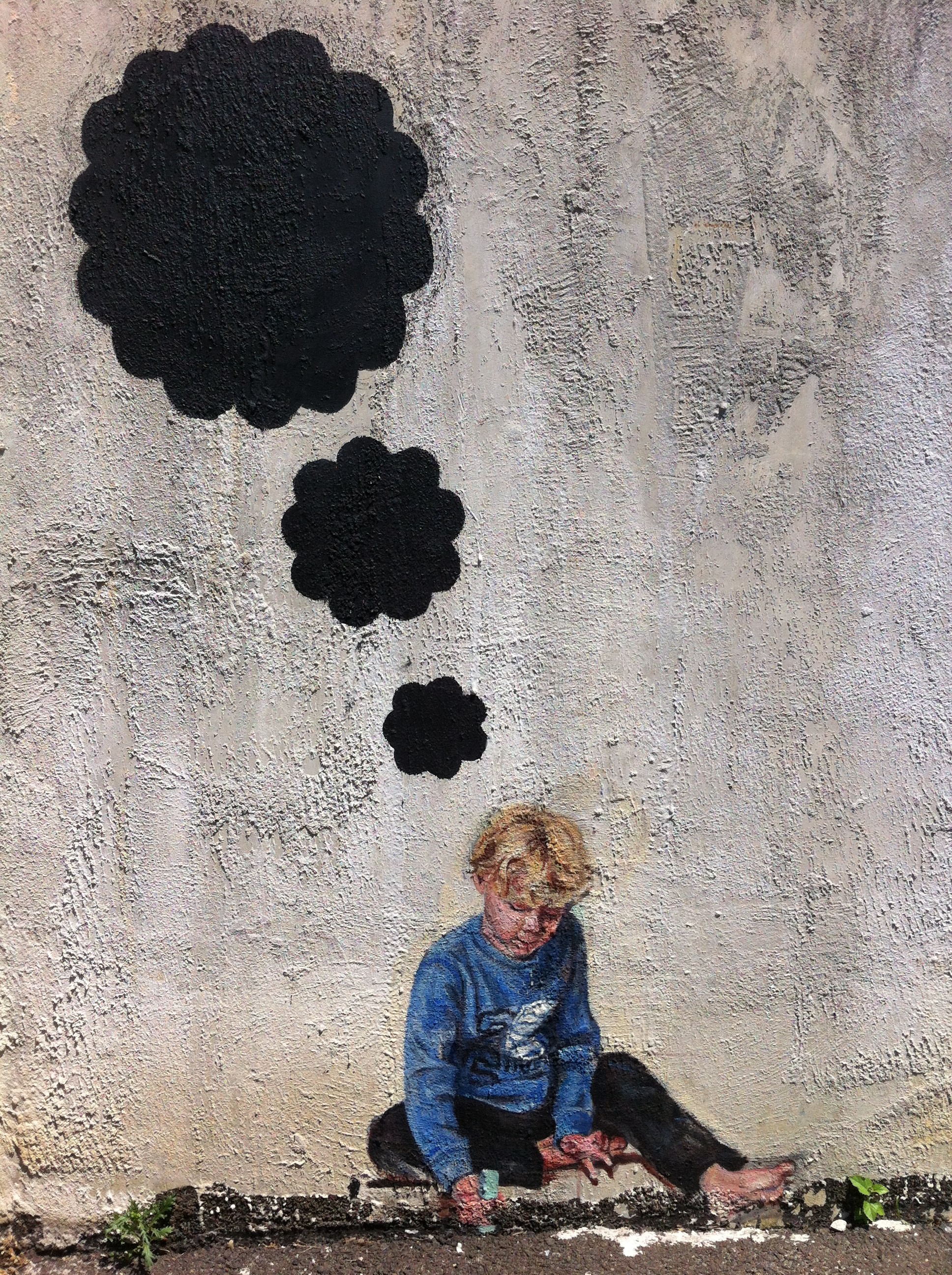 Recently, I learned an artist was painting a mural blocks away from my house in Takoma Park, MD.  I tracked down the artist, Takoma Park resident and recent Blair High School grad, Mia Massimino, and asked her about her new piece.
Please tell us about your mural.
My mural is a life-sized painting of my baby cousin.  The idea around it was that I would paint an open-ended mural that Takoma Park citizens both young and old could interact with and draw on using the chalk I provided.
Why did you decide to do this project?
The instructors at the Montgomery County Visual Arts Center (An arts program serving several county high schools) asked the seniors to design and produce something new and different using skills developed during their time in the program.  For me, this began an exploration of how I could become a more versatile artist.
How did you go about obtaining permission and choosing the spot?
I emailed city councilman Seth Grimes. He said that although he liked the idea, he did not have the authority to let me paint on the Civic Center.  So, he gave me the contact information of someone who could.  The Civic Center was not my first attempt. I tried to get permission from many small businesses in Takoma Park and Silver Spring, most of whom did not own their buildings.
What is important to you as an artist?
Affecting people with my art, spreading my creativity, and hopefully making the world more beautiful in the process.
What kind of response have you gotten since the mural went up?
I am pleased to report that people seem to enjoy it!  Everyone has had nice, or at least constructive, things to say about it. The only issue currently is that someone took the chalk! I suppose I was overly optimistic in leaving the chalk there unattached.
What are your plans for your art career in the future?
I have decided to explore careers in art or human rights work. These are just options though.  I would like to keep an open mind in college.
Mia will attend the University of Michigan this fall.  I look forward to seeing what she gets into next.