Below are letters from Dr. Paul Armstrong to Ken Kesey about his appointment as Visiting Professor to the University of Oregon. The letters provide insight into what both Armstrong and Kesey envisioned for the class that would go on to write Caverns.
For more background on Caverns, click here.
Armstrong, now at Brown University, became the head of the University of Oregon English Department in 1986. At that time, several creative writing instructors were nearing retirement. Seeing a need to infuse new life into the program, Armstrong created a visiting professor position. When he heard Ken Kesey had expressed interest in teaching, he reached out. The two had lunch at Kesey's house in the spring of 1987.
Kesey's literary output and cultural relevance had waned. "I could see the bus there with grass growing through it," Armstrong recalled. Armstrong also felt Kesey wanted a way to connect with young people after the death of his son Jed.
Kesey recalled with fondness his development as a writer at Stanford University under the direction of Wallace Stegner saying, "That's where I learned to write." Still, says Armstrong, "he didn't want to teach your standard workshop. He wanted to recreate the experience of working together as a group." Kesey talked about setting up multiple computers. While the technology did not yet exist to share a document over the internet, Kesey wanted students to be able to pass around their floppy disks.
Some within the University warned Armstrong against becoming involved with a controversial persona such as Kesey, but he thought that the potential benefits outweighed any risks. In the end, Armstrong was pleased both with what Kesey taught his students and the positive publicity Caverns brought to the University of Oregon.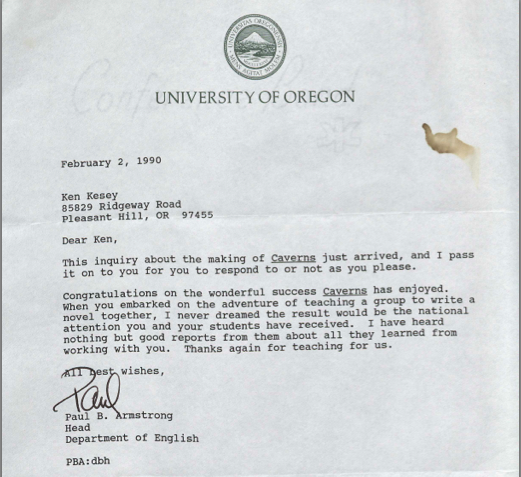 Special thanks to Linda Long, University of Oregon librarian, for helping me obtain these documents.