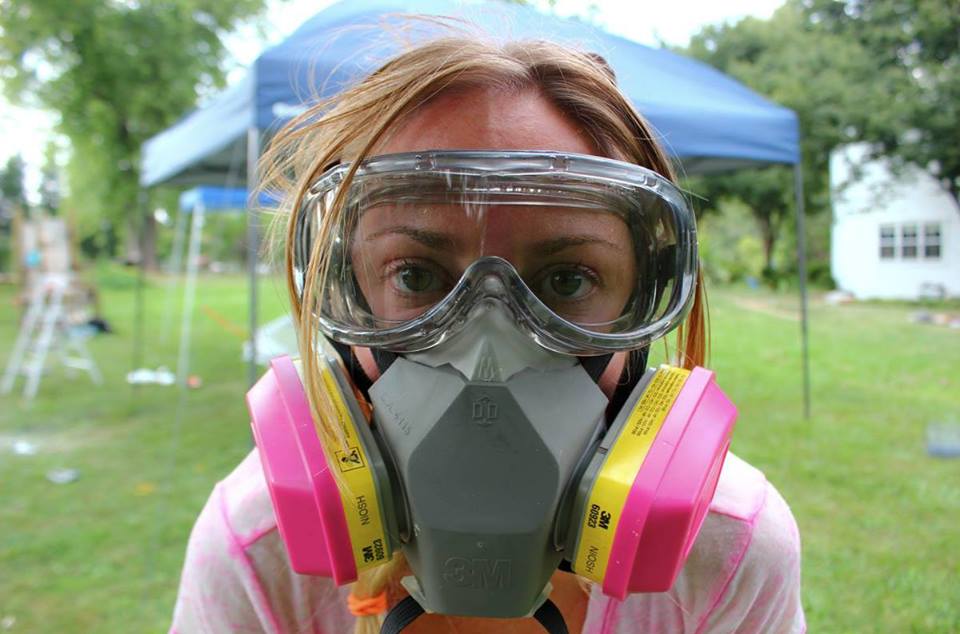 Over the past several years, Rania Peet was the creative mind behind the large-scale sculptures on display at Silver Spring, Maryland's The Haunted Garden. Nosy neighbors and legal rigmarole shut down the home haunt this year. Still, Rania's work has grown bigger and spookier than ever.
How did you become involved with The Haunted Garden?
I was working for my very close friend, Donna Kerr, who was hosting a small fundraiser event during the month of October in 2010. Her house is situated on a beautiful 1/4 acre wooded lot, and as I was walking through thinking about how to decorate the fundraiser, I thought it would be cool to do a haunted garden walk. The yard really lends itself well to that sort of environment with its hundred foot tall trees, stone paths, ponds and wooded trails. I already had a good amount of Halloween props, so I started hanging grim reapers and skeletons throughout the yard. A few neighborhood kids asked if we were going to open it at night, so we opened to the community as The Haunted Garden. Everyone loved it, and it became an annual event for the next three years. 2013 was our last year at the property.
What are your plans for The Haunted Garden this year?
Because of legal action taken by a few neighbors, we can no longer do The Haunted Garden as a yard haunt. I am bringing everything to the Nightmare Festival, an electronic dance music event October 31-November 2, 2014 near Havre De Grace, MD. My crew (husband Craig, Danny Davidson, Michael Faulkner, Addy Bramson and
Dan Ardnt) will be presenting different haunted theme areas and walks including a haunted ghostly tree-lined path, a Garden of Wonders path complete with 8 giant mushrooms, as well as a Night Circus area with live actors and tons of visuals and circus music. We will also be decorating other areas of the festival just to bring the Halloween experience to life.
What are some other favorite projects you've worked on?
Lately, I've been thoroughly enjoying decorating raves. It's something I did back in the late nineties and have recently gotten back into. This year, I started working for Badass Raves on large events like Big Dub Festival in Artemas, PA and their Adventure Time themed rave, Epic Adventure. I made twenty-eight pieces of three-dimensional candy and a twenty-two foot Lady Rainicorn. It was a lot of work, but loads of fun.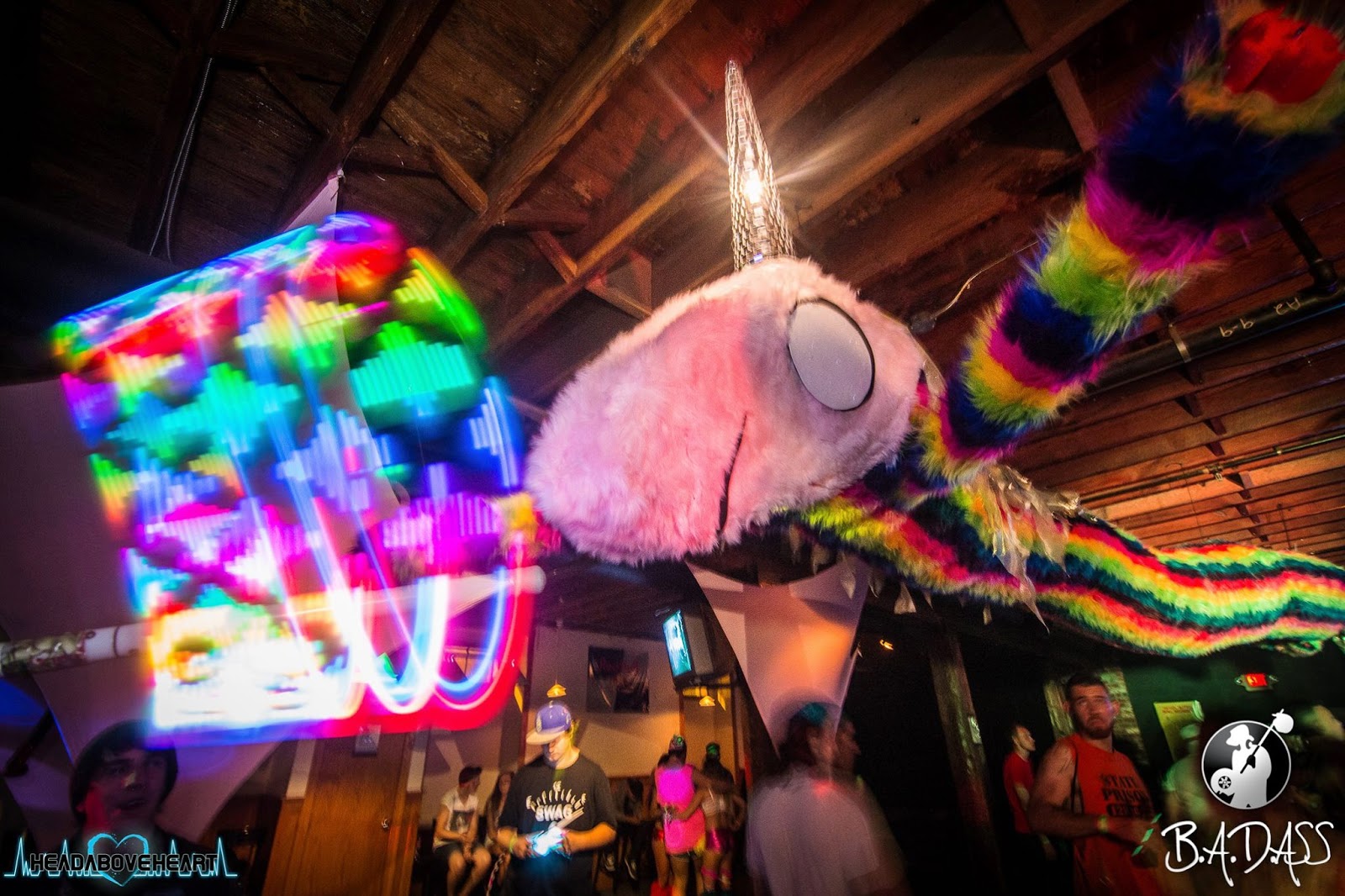 I'm also working on a T.V. pilot for Blue Ibis Films. I love photography and videography. It's my other life passion.
What's been your proudest moment as an artist?
I am always striving to be better and am never truly satisfied with anything I do. It felt pretty good to see my mushrooms finished. I took that project on without knowing how to make it happen at all. I couldn't find any kind of tutorial on the subject, so I decided to be the one to put it out there. I am building three more mushrooms for a total of eight and am constantly improving their design. I just want more more more! The end goal is to have a forest of them for people to walk through at the entrance to my official haunt in the future.
What's the largest piece you've created?
The latest is my twenty-six foot Jack. I built his head a couple years ago which is a four foot pumpkin head with a giant hat but just recently finished his body which is seventeen feet long. He is going up in The Night Circus to watch over everyone. I can only go bigger from here.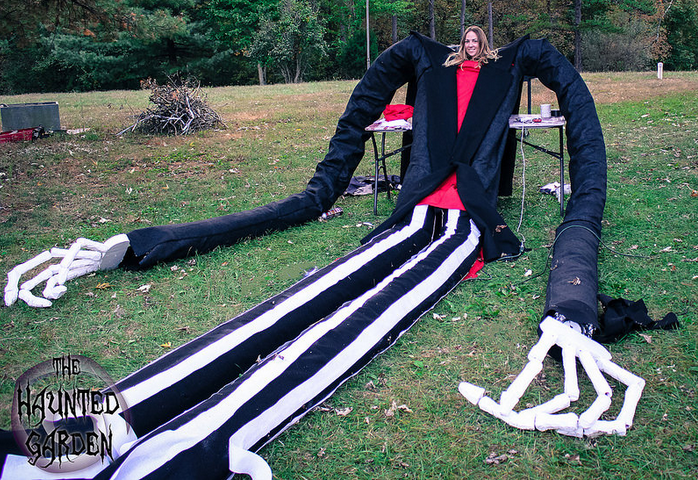 What are some of the most common misconceptions people have about your art?
Probably the actual size of the big props once they see them in real life. Pictures sometimes don't do justice to their greatness. Being under larger than life props is something you really have to experience to get it. It's awesome being in that kind of environment.
Is there anything else you wish I'd asked?
My biggest inspirations are my great friends and mentors from Haunted Overload in New Hampshire. They are the ones who started making the "go big or go home" type Halloween props. They started out doing a yard haunt in their front and back yards using telephone poles to hang giant thirty foot creatures. Years later, Haunted Overload became a professional haunt and is now one of the top haunted attractions in the country. They give me great advice and are amazingly talented and wonderful people. Their haunt is breathtaking. If you are in the area during the haunting season, do yourself a favor and pay them a visit. www.hauntedoverload.com
My goal right now is to obtain the land and funding to open a haunted house in the West Virginia panhandle area as The Haunted Wonderland, a non-traditional, fantasy-style haunted trail that will bring my larger than life imagination to the masses.
Learn more about me, my design work and The Haunted Garden here: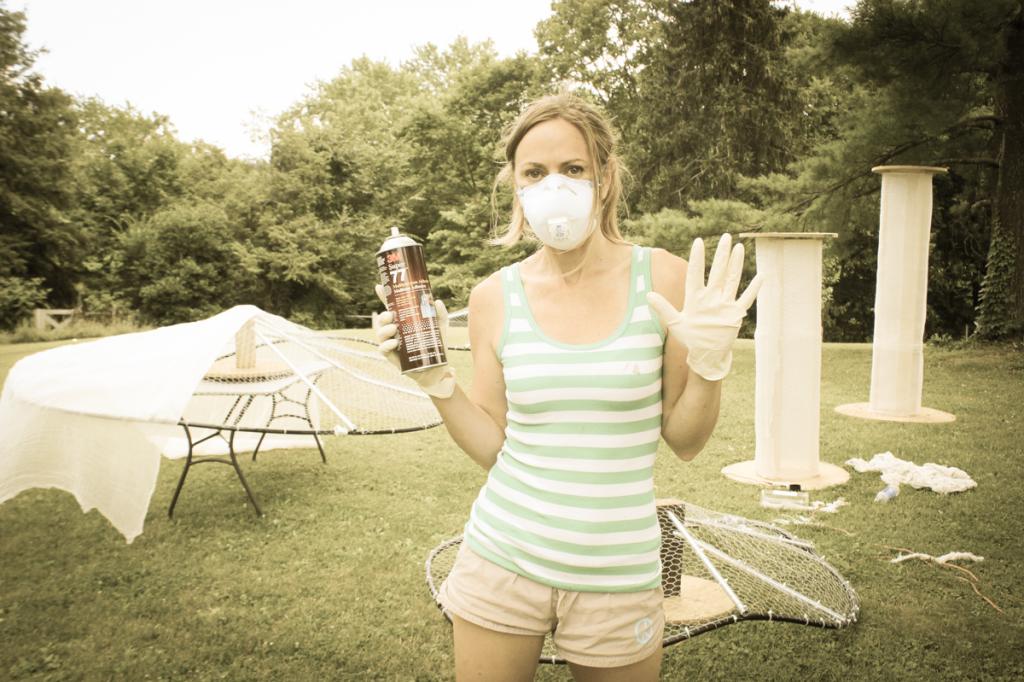 My personal pages:
Design blog: www.stopandeattheroses.com
You Tube: www.youtube.com/user/raniapeet
Facebook: www.facebook.com/raniapeet
The Haunted Garden:
www.thehauntedgarden.com
www.facebook.com/thehauntedgarden
www.the-haunted-garden.tumblr.com
www.twitter.com/Haunted_Garden