On January 25, 2019, artists and amateurs around the world will place depictions of Frida Kahlo out in public, or in places free and accessible to the public, to celebrate Night of 1,000 Fridas.
Events are popping up around the country. Plans and details are being formed daily, and I'll do my best to keep this page updated.
This event is for everyone worldwide. You don't need to be close to one of the below locations to participate, but these hubs will be fun gathering spots. To find out more about the project, visit this page. Are you organizing an event that should be added? If so, contact me.
FLORIDA
Young Philosophers Society
Mary Esther, Florida
Contact: Young Philosophers Society
Paint like Frida and create a beautiful flower headpiece to wear home. All ages welcome.
KANSAS
Night of 1K Fridas
Hosted by Diana Dunkley at Studio 3D
Lawrence, Kansas
Contact: Diana Dunkley
1/25 – 5-8pm, Studio 3D, 1019 Delaware Street, Lawrence, KS
Come see paintings, fiber work, ceramics, mixed media including a handmade Frida doll, Frida Kahlo impersonators, poetry and other performances, and a miniature model of Frida Kahlo and Diego Rivera's home in Mexico City. Artists will also present an interactive piece called "Frida Was a Drama Queen".
MASSACHUSETTS
Adventure Pub
Arlington, MA
Contact: Sarah Goupell
1/25 – Adventure Pub, 190 Massachusetts Ave, Arlington, MA 02474.
Come see original art, purchase Frida Kahlo-inspired menu items including shishito rellenos, asian style street corn, grilled beef heart skewer, and Mexican hot chocolate. The game café will also present Kira Magrann's game "Selfie." Many of the artists will be on hand.
MARYLAND
Christina Jarmolinski Art Studio
Salisbury, MD
Contact: Christina Jarmolinski
Frida-inspired original art.
Vermont
Sheep to Shawl Studio
315 Elm Street, Barton VT 05822
Contact:Donna Druchunas
Frida-inspired knitting patterns and watercolors by Donna Druchunas. More here.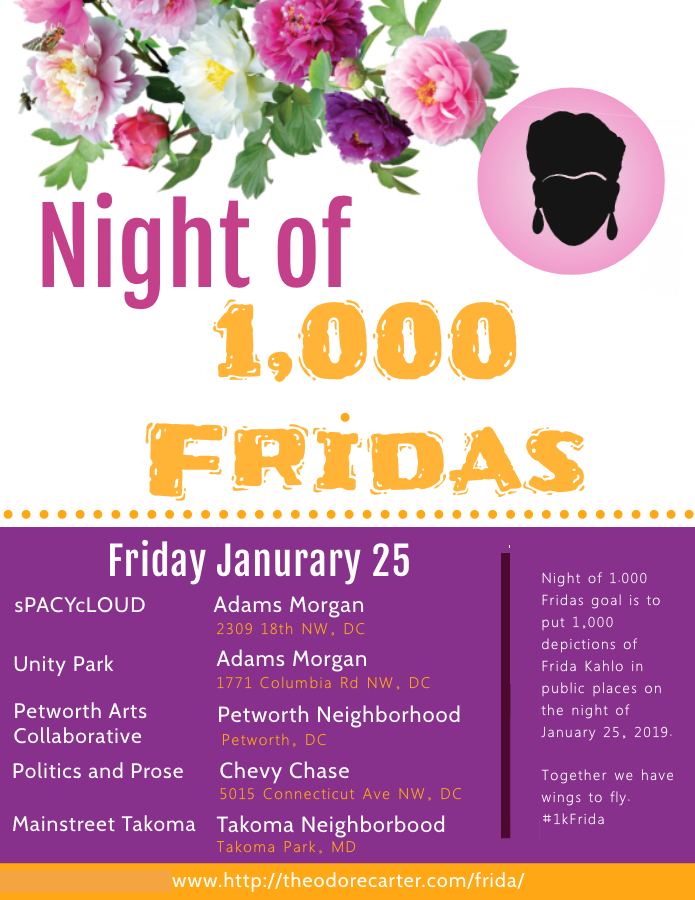 WASHINGTON, D.C
The Den at Politics and Prose
5015 Connecticut Ave NW, Washington, DC 20008
Contact: Aurie Hall
Opening Reception 1/25, 5:30pm
Art on display 1/25-1/29
Expect original art, a costume contest, extended happy hour, and fun photo opportunities. "Frida Sex Dreams" for sale upstairs.
Petworth Neighborhood
Washington, D.C.
Contact: Petworth Arts Collaborative
Events on 1/14, 1/17, 1/25
More info here.
1/21 – 6:30pm-8:30pm at Fias Fab Finds (FREE) Help make flowers for a Frida Kahlo window installation to be displayed on 1/25
1/17 – 6:30pm-8:30pm  atTen Tigers Parlour ($10)  Come create your own Frida Kahlo inspired painting!  8×10 Canvases, paints and brushes provided. Finished work will be displayed on 1/25.
1/25 – 6:30pm-9:30pm NIGHT OF 1,000 FRIDAS various locations- Fias Fab Finds Upshur Street Books Petworth Citizen Slim's Diner Ten Tigers Parlour
Come check out the work by local artists and YOU!! Take part in placing the beautiful paper flowers on the Frida Kahlo window installations and checkout the Frida Kahlo live projections!
sPACYcLOUd Lounge DC
2309 18th Street NW, Washington, DC 20009
Contact: TMI Management Group
Original Frida-inspired art, live painting, music, and an opportunity to make your own Frida wine glass or cheese board ($30 for optional class).
Takoma Neighborhood
Washington, D.C.
Contact: Main Street Takoma
Art, recipes, and classes from local downtown businesses including TPSS Co-op, Takoma Wellness Center, Little Loft, Artful Framing, Fair Day's Play, Education First, MAD Fitness, The Big Bad Woof, Kittner Studios, Republic, and more.
Unity Park
1771-1795 Columbia Rd NW, Washington, DC 20009
Adam's Morgan Neighborhood
Washington, D.C.
Contact: Nancy Shia
1/23 – 6pm. Come make Frida art at The Line Hotel.
1/25-1/27 Artwork made by the community and local students hung in the park.