Recently, Ben's Chili Bowl celebrated its 55th anniversary. The event reminded me of famed hot dog artist Hawk Krall and his illustration of D.C.'s famous half-smoke. I emailed him some questions about his art, Ben's Chili Bowl, and the virtues of low-brow cuisine. Here's what he had to say: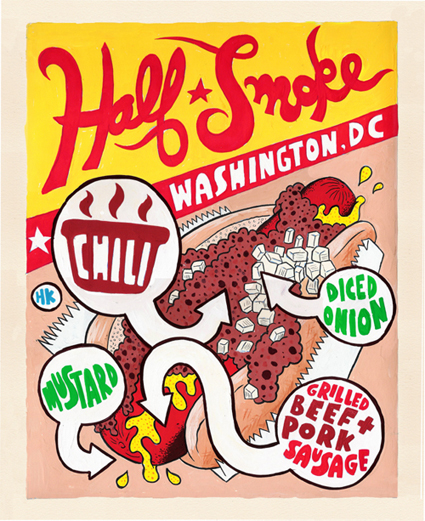 How did you become the unofficial king of take-out food illustration?
A few years back I was working as a line cook and doing illustration and comics on the side, mostly humorous editorial work for alt weeklies. I started doing comics about my kitchen experiences and spot illustrations of terrines and steaks and sending them out to food publications and websites including Serious Eats. At first I was hoping they would run my comics but I pitched the idea of a series of illustrations of regional hot dogs, which they went for right away, I suspect in part due to owner Ed Levine being a big hot dog aficionado and expert.
At the same time I was also doing some stuff for Josh Bernstein's "Gut Instinct" in the NY Press, a column about out-of-the-way cheap eats, dumplings, Szechuan, and hoagies in Atlantic City. I started sending all this food work out, about the same time that pretty much every media outlet was pumping up their food coverage, and it went from there. Art Directors I had worked with before, drawing caricatures of George Bush or whatever, were hiring me to do illustrations for "best burger" articles along with new clients, including a lot of restaurants and start-up food businesses. For the last few years it's been pretty much all food all the time.
What eateries do you like to visit while in D.C.?
I haven't done a huge amount of eating in D.C. but every time I come down I'm surprised by how much is going on. Until recently I guess I sort of thought of D.C. as the 80's version where there isn't much to do and the mayor smokes crack. I'm really surprised by the amount of good pizza, including "New Haven style" Pete's Apizza. I'm usually skeptical about imported regional food but Pete's is good and fairly close to the real thing.
Not exactly an eatery – but the Maine Avenue Fish Market is mind blowing. There aren't too many places like that left. I'd never even heard of it and it seems to be overlooked, perhaps because it isn't foodie or gourmet enough? Sort of like Philadelphia's 9th Street Italian Market but with boats. And MUCH better seafood (Sorry, Philly!). I also had a great meal at Marvin, and of course Ben's Chili Bowl.
What's so great about Ben's Chili Bowl?
It's one of those places where you walk in and immediately just know that it's going to be good. Lines out the door and I think there was even a bouncer, but it still has the old school vibe of the counter and old menu signs. Not to mention it's probably one of the most beautiful hot dog places in the country as far as the signs and lettering go. It's also one the very few historically African American hot dog joints and has a lot of history – during the 1968 riots Ben's stayed open and was basically the calm in the storm with activists and police rubbing elbows over chili half smokes and milkshakes. Also, their food is just really, really good. A lot more flavor than your average hot dog and buried under ridiculous amounts of chili.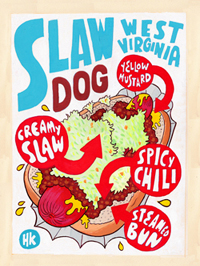 What exactly is a half smoke?
There are a lot of theories about the name, that back in the day they smoked them half as long as regular sausages, or because they were originally half beef and half pork. Or because it's sort of halfway between a smoked sausage or a kielbasa and a hot dog. More smoke and spice than a frankfurter and usually a coarser grind, but not quite "sausage" level. Beef and Pork mix is the norm but you see an All Beef version as well these days.
Also, they are served like hot dogs, on white buns with chili, whereas a sausage sandwich is often served on a bigger roll with peppers and onions. Ben's really chars the heck out of them which is awesome. The best half-smoke I've ever had was actually from Hoffman's Meats, a tiny butcher/meat purveyor out in Hagerstown, Maryland that makes their own half-smokes, brats, and hot dogs.
Have you ever tried mumbo sauce?
Not yet, but I definitely will next time I'm in D.C. I love this sort of corner store stuff and it reminds me of Hoover Sauce – a Mississippi Delta wing sauce/marinade homemade at a Chinese grocery – which I'm also dying to check out. Any local food that the highbrow foodies get angry about and look down on is probably delicious and definitely the real thing.