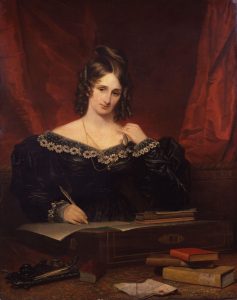 This story originally appeared in Dirge Magazine on August 30, 2016. 
After sharing ghost stories with friends on a stormy night, Mary Shelley changed western literature by writing Frankenstein, a literary, horror, and science fiction classic and a cornerstone of the slippery genre of gothic literature. In honor of Mary Shelley's birthday (August 30, 1797), here are five books by contemporary women who, like Shelley, combine rich language with eerie plot lines fit for a stormy night. Tonight, raise a glass to Mary Shelley on her 219th birthday, hope for lightning and thunder, and read one of these books by candlelight.
by Ottessa Moshfegh
Each paragraph in this novel is wrought with tension as Moshfegh develops a protagonist painfully unable to connect with others, making her a ripe target for the mastermind of a vengeful crime in need of an accomplice. Protagonist and narrator Eileen struggles to take care of her alcoholic father while earning a paycheck as a clerical worker at a prison for juvenile boys. Her personal relationships are hamstrung by her verbally abusive family, crippling self-doubt, and visceral discomfort with her own body. Reminiscent of Shirley Jackson, Moshfegh is a master at building constant and increasing unease as she moves toward the novel's crescendo.
by Susan Scarf Merrell
Did someone say Shirley Jackson? This long-dead master of the macabre makes her second appearance in this contemporary list, this time as a character in Susan Scarf Merrell's Shirley. The novel tells the story of Rose Nemser who, along with her husband Fred, come to live with Shirley Jackson and her philandering husband Stanley Edgar Hyman. Privy to an up-close look at Jackson's difficult marriage, Rose becomes convinced Jackson had something to do with the disappearance of her husband's former female student. The novel borrows heavily from Jackson's true biography as well as her writing to create a complex amalgamation of fact and fiction.
by Karen Russell
Russell's novel Swamplandia! set off a cavalcade of awards and accolades for the young author, so much so that when her book of short stories Vampires in the Lemon Grovecame out, I feared a title story with a highfalutin metaphor about longing set in a citrus orchard. I was wrong! Russell shows you can become a darling of the literary establishment while writing about an actual vampire couple struggling to supplant a thirst for blood with lemon juice. Russell's latest novella, Sleep Donation, is a dystopian story of a sleep-deprived society mining rest from a baby, proving a Pulitzer nomination will not dissuade her from entering SciFi and horror territory.
by Joyce Carol Oates
Just because Oates's books populate the front shelves of airport bookstores and proudly display the Oprah Book Club seal of approval doesn't mean this prolific writer doesn't churn out great gothic literature. She's been writing dark literature since the 1960s. Her novel Zombie is based on Jeffrey Dahmer, and her novel Black Water retells the Chappaquiddick incident from the point of view of the drowning woman. Haunted is a fantastic collection of grim stories. My favorite story, "White Cat," takes inspiration from Edgar Allan Poe's The Black Cat and describes how one man's murderous obsession with his wife's cat leads to his own demise.
by Samantha Hunt
In researching this novel, Hunt constructed her own religion, picking from the Book of Mormon, classic rock, Carl Sagan's Cosmos, geology, and elsewhere. Part gritty realism and part dark fantasy, Samantha Hunt's Mr. Splitfoot explores themes of family and history through two separate story lines. The first is about Ruth and Nat, two teenagers from a state-run group home that hit the road and make money as spiritualists contacting the dead. The other storyline, years later, has a mute Ruth leading her pregnant niece Cora on a journey to a former cult compound. Hunt's novel blurs the lines between spiritualism, religion, and hoax.