This piece originally appeared in Dirge Magazine on October 16, 2016.
Van Gogh painted vibrant sunflowers, MC Escher produced mind-bending visual puzzles, and Andy Warhol is best known for his soup cans. Each artist also produced bleak cranial creations to remind us of our inevitable demise. Here are 13 works by master artists featuring the human skull.
1. Pyramid of Skulls – Paul Cézanne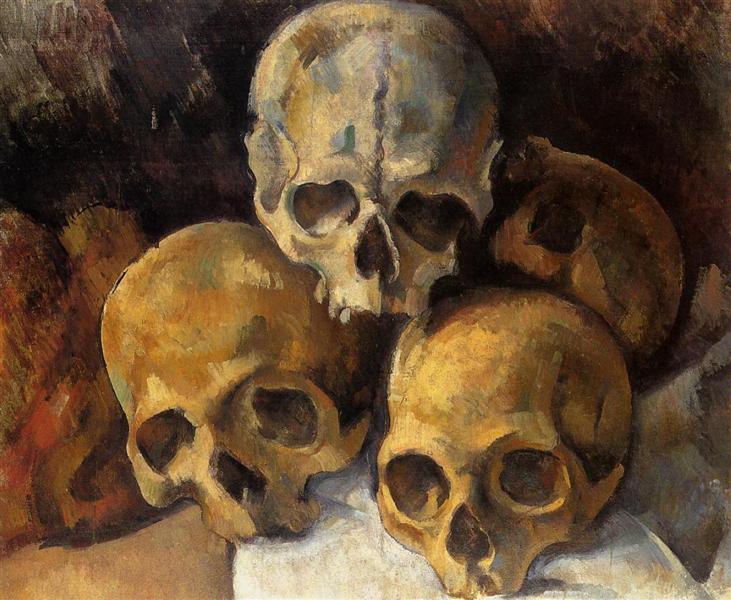 When you think of a Cézanne still life, you probably picture a bowl of oranges. However, you'd do just as well to think of a pile of skulls. Toward the end of his life he sank deeper into depression and his fear of death showed in his work.
2. Skulls – Andy Warhol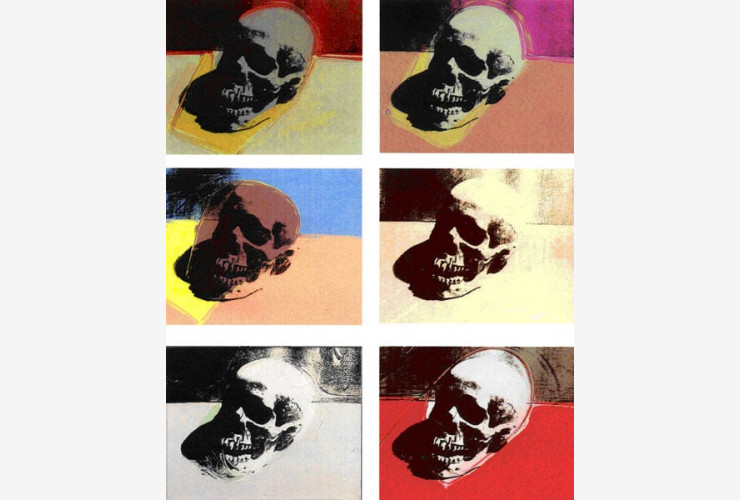 According to the National Gallery of Scotland, "After he was shot and critically injured in 1968, Warhol became even more obsessed with the theme of death than he had been previously." A plethora of colorful skull silkscreens support this statement.
3. Skull of a Skeleton with Burning Cigarette – Vincent Van Gogh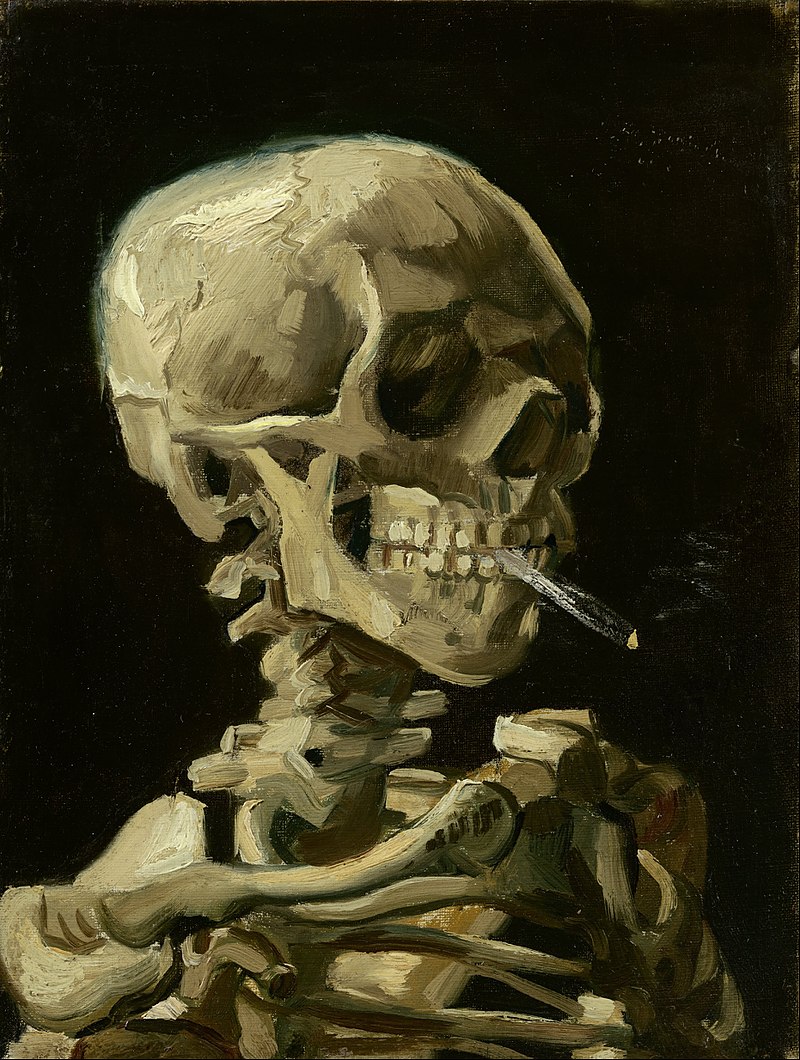 While some point to this painting as evidence of Van Gogh's sense of impending doom and deep depression, others argue it to be a humorous response to the drudgery of anatomy instruction at Royal Academy of Fine Arts Antwerp. Both interpretations make sense, and it's difficult to unwrap the logic and motivations of someone who ate paint, drank turpentine, and cut off his own ear.
4. Voluptas Mors – Salvador Dali and Phillippe Halsman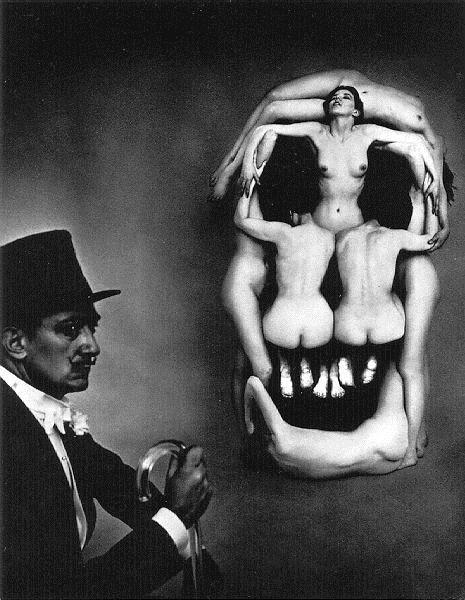 Salvador Dali's collaboration with photographer Philippe Halsman produced this iconic photograph which translates to "Voluptuous Death." The photograph was based on a Dali sketch and it took the two artists several hours to arrange the nude models for the photograph.
5. View of a Skull – Leonardo Da Vinci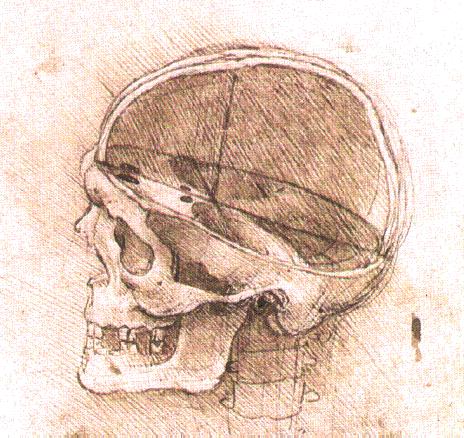 Da Vinci worked at the crossroads of science and art, and produced a wealth of anatomical drawings as he dissected and examined human corpses.
6. Still Life with Skull, Leeks, and a Pitcher – Pablo Picasso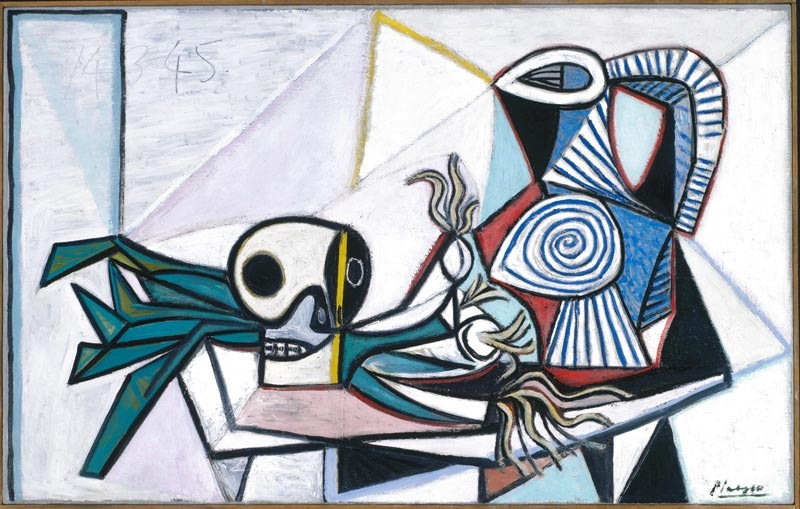 7. The Kiss of Death – Edvard Munch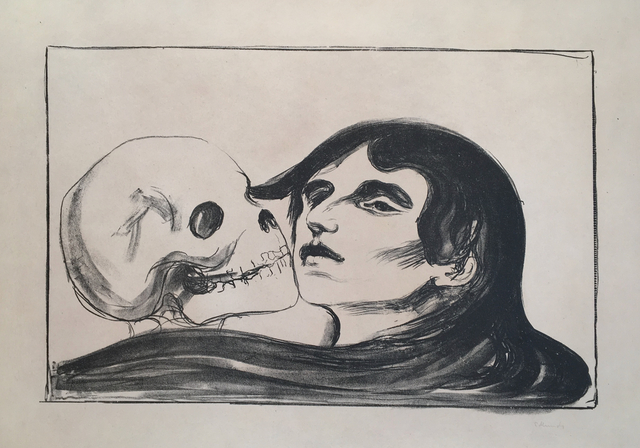 Expressionist Edvard Munch's paintings are wrought with anxiety, fear of death, and a discomfort with sexuality. These themes were the driving forces behind his life's work. If this lithograph doesn't convince you, check out Vampire or Death and the Maiden.
8. Head with Broken Pot – Georgia O'Keeffe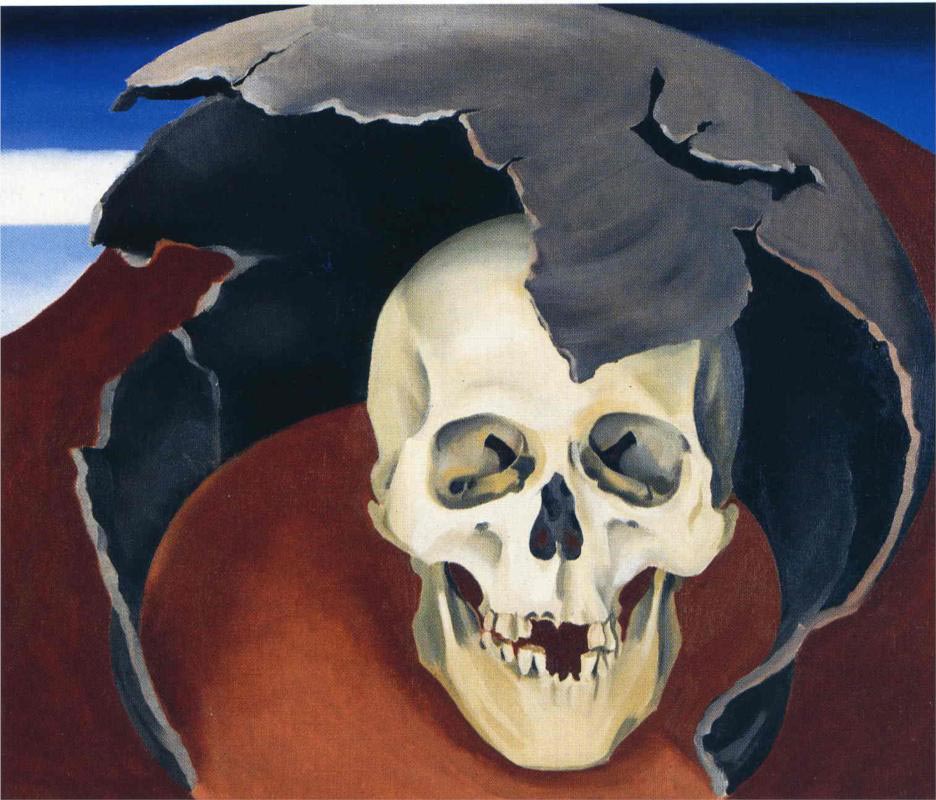 Many of O'Keeffe's paintings feature animal skulls set against the barren backdrop of the the southwestern desert. Here, she depicts a human skull inside a crumbling pot, an image which one critic asserts is a reference to the destruction of the region's native people.
9. Without Hope – Frida Kahlo
10. Skull with Cigarette – MC Escher
Possibly the most bizarre and surreal painting of this bunch, this 1533 canvas includes a skewed, nearly unrecognizable skull when viewed head-on. When the painting is viewed from the side, the skull comes into perspective and appears perfectly proportioned. The painting is an early example of anamorphosis.
12. Dream of a Sunday Afternoon in Alameda Park – Diego Rivera
This massive mural includes an ambitious swath of Mexican history and culture including a skeleton dressed in Sunday finery holding the hand of a young Diego Rivera. The well-dressed skeleton is Rivera's homage to the work of artist Guadalupe Posada. Frida Kahlo looms over the skeleton's shoulder. The above image is only a small section of the enormous mural.
13. Death and Life – Gustav Klimt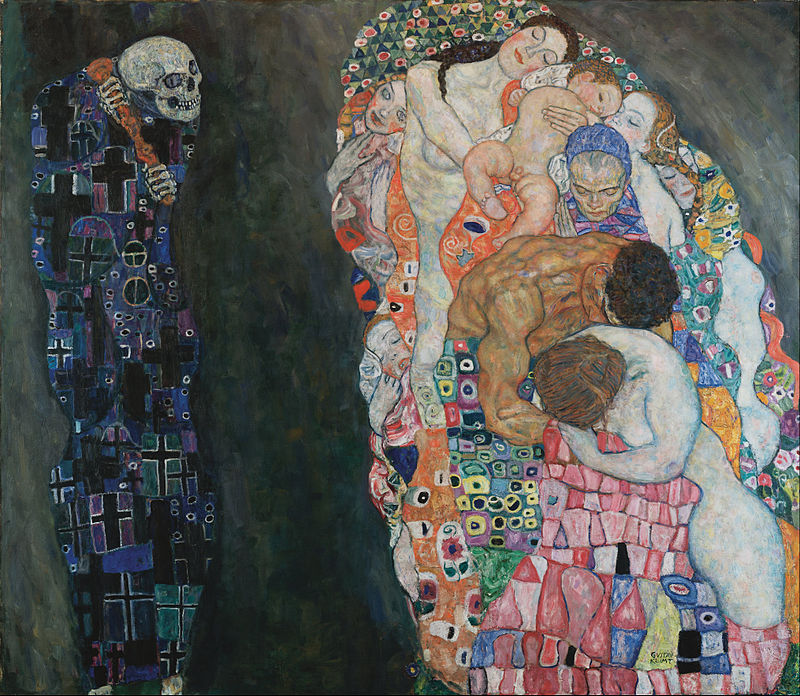 Klimt's intricate pattern-rich style adds complexity to this painting of Death looking longingly at vulnerable mortals. This work earned Klimt first prize in the 1911 International Art Exhibition in Rome, but the artist continued to work on the painting for several years adjusting the gold background to a darker, drearier gray.
The skull is a symbol of mortality used throughout the history of art. Of course, this list of thirteen works spanning 500 years is inadequate. Luckily, Dirge is here to fulfill more of your dark art needs. Click around and find something else great.